Navigating Your Cannabis Career: A Guide for Beginners
Published Oct 5, 2022 01:32 p.m. ET
Beginning a new career route is a tedious task. Understandably, hopping into a new industry can feel highly intimidating, especially in the cannabis industry. Many believe that budtending is where you need to start your cannabis career path. However, that's not always the case. The cannabis industry runs very similarly to other industries, with countless departments and niches you can adventure through while searching for your passion. Lucky for you, we have put together this guide to help you find what path might be best for your career in cannabis.
Know where you're applying to. If you have experience in the legacy industry, you may want to refrain from using to businesses that have discouraged including legacy experience on your resume.
Where To Start
The cannabis industry is ever-growing with constant changes in market trends, business models, regulation changes, and other innovations. First and foremost, the cannabis industry was built off of communal work. If you're looking to get your foot in the door, networking within the cannabis community is your best bet. Depending on what sector you want to enter, you may begin looking at public events, conferences, and other activities cannabis community members actively attend. Turning to online platforms like Reddit, Twitter, LinkedIn, etc., can also help you gain insight into where you're niche is. Finding advice and direction from established industry workers can be a handy tool as you establish yourself in the space. It's crucial to research similar positions, salaries, and interview questions ahead of time in preparation for your career change. Luckily, the cannabis industry has a variety of support groups that help you with resources and networking like The Different Collective.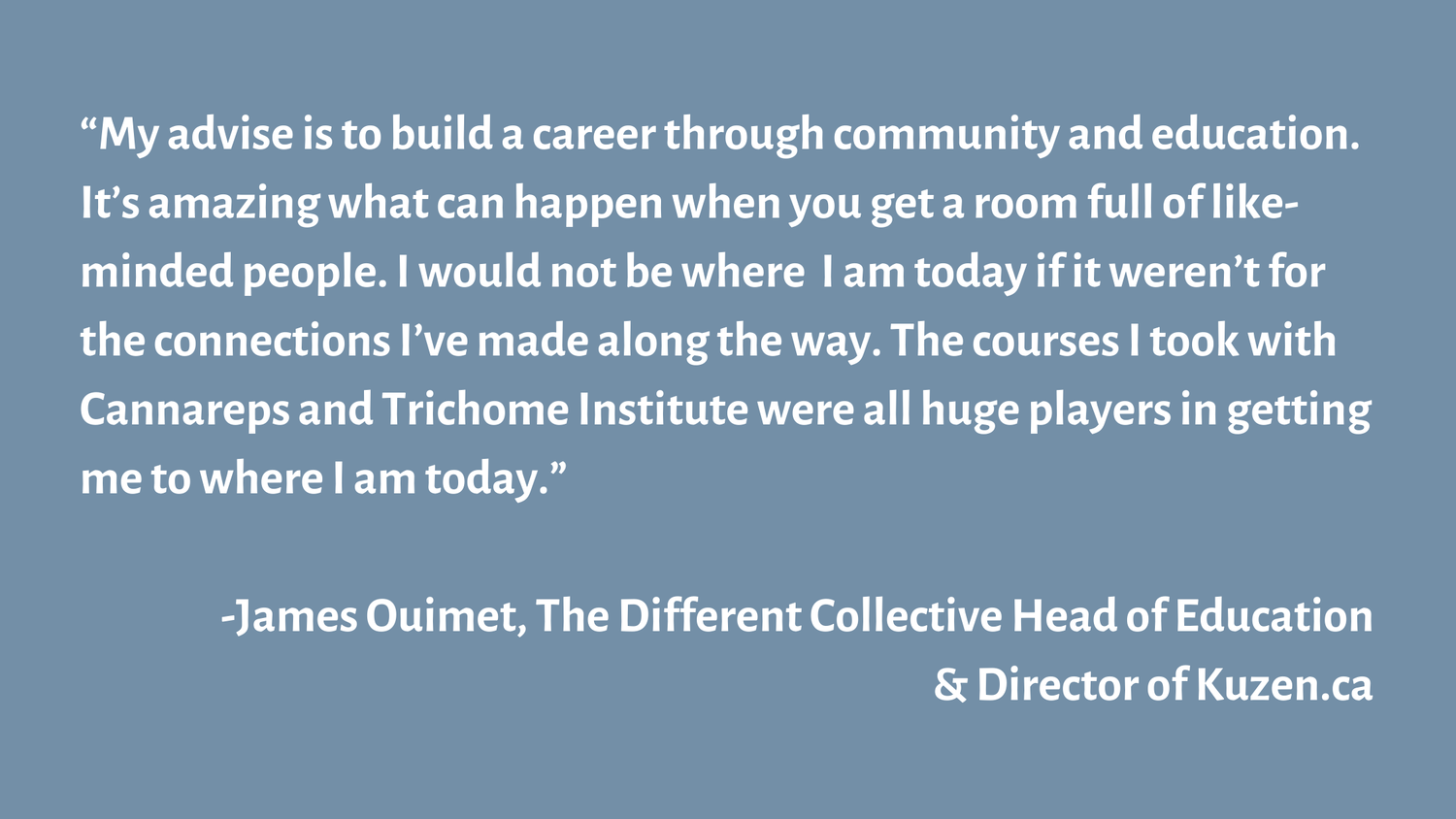 Cannabis Education
There's no better time to begin educating yourself about cannabis, whether that's about the plant or its applications in the industry. In due time, cannabis courses will become a norm for post-secondary education. We have seen this begin in the USA; however, only private and continuous studies classes are available in Canada. Many cannabis educators have found private courses through platforms like Cannareps, the Trichome Institute, Green Flower, and others. With no explicit diploma, or degree required to work in cannabis, many industry workers have become primary candidates because of their knowledge and education experience.
Types of Jobs
Many people become shocked when they see the long list of available positions in the cannabis space. But, realistically, any position in other industries can be found in cannabis. In addition, there are four main sectors of job types in the cannabis industry. You can choose from Adult-use (retail), medical, Licensed Producers, Government, and 3rd parties; as well as the usual department's finance, marketing, non-profit business development, law, customer service, and areas for content creators and freelancers. It is worth noting that the cannabis industry may support all kinds of careers, but the structure is different based on regional regulations. Lastly, it's critical you are of legal age to consume and work in the cannabis industry.
Adult-use Retail
When referring to the cannabis industry, many non-industry workers think of retail stores and budtenders. Within the adult-use market, there are many front-end careers you can choose from. The most popular of which is budtending. Budtenders are the face of the cannabis industry, the first contact point of consumers. If you're planning on becoming a budtender or working your way into retail management, it's highly encouraged to have cannabis education experience. Of course, it's not always a requirement but will put you ahead of other candidates who may need more training.
Medical Cannabis
The medical cannabis industry has operated for over two decades in Canada and some states. Whether the company has physical stores or works as an e-commerce store, you can choose from various positions depending on your background. Jobs within the medical space include nurse practitioners, medical research, clinical assistants, and e-commerce.
Licensed Producers
Licensed Producers is a term mostly used in Canada for the cultivators, producers, and distributors of cannabis products. Growing cannabis is one of the most tedious jobs in the industry, and experience is required. Careers in cultivation include but are not limited to master grower, trimmer, cleaners, and genetics. Once cannabis products have been produced, the responsibility is transferred to other procurement, operations, and B2B sales teams. One position that is arguably the most important to the cannabis industry is quality assurance. QA teams ensure all regulations, laws, and policies are implemented and executed up to standards.
Government & Regulations
Depending on your location, governing bodies in the regulatory space may be hiring. For example, as the USA develops plans to be federally legalized, there's no question they will need more employees to implement and manage regulations. In Canada, Health Canada, and the CRA oversee the majority of operations. In addition, some branches within states and provinces fall within the cannabis space. Another route is applying to non-profit groups influencing laws and regulations, such as the Last Prisoners Project and Cannabis Amnesty.
3rd Party Businesses
Countless businesses in the USA and Canada are not directly linked to the production or distribution of cannabis sales. Instead, third-party providers have a vast range of operations in the cannabis space, from marketing agencies to hardware companies. Even tech has a significant presence.
Tech is a thriving sector on its own, and many companies have begun exploring the opportunities tech and cannabis have in partnership. More and more companies are turning to digital aids to support their businesses. Some of these include:
Web Security
Website Building
Apps Creation
E-commerce Management
SaaS programs

Always remember, you're choosing to work for this team. The first step in being hired is deciding where you want to work. Next, thoroughly research the company, its policies, and values. Don't be afraid to ask questions in an interview to ensure it is a good fit for you and the business. Here are a few you can ask to assure values are aligned:
Can I review the company's medical insurance plan before accepting the position?
Is there a good work-life balance?
Where do I write my pronouns?
Can I take a mental health day off?
Do you have a gender-neutral bathroom in the workspace?
Can I work from home?

Start your job search today on the White Ash Job board!